2004 Papers
---
2004 April 26 – 27
Atlanta, GA, USA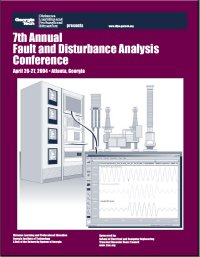 Oscillation Detecting and Recording Project
David B. Bertagnollia, Xiaochuan Luo, et al.
Enhancing Wide Area Information Systems in the Eastern Interconnection
Matt Donnelly, Paul Barber, and Jim Dyer
Distributed Web-based Systems for Recording of Wide Area Disturbances
Alexander Apostolov
Use of Phasor Measurements, SCADA and IED Data to Improve State Estimation Procedures
Mike Ingram, Sandra Bell, Sherica Mathews, TVA , George J. Cokkinides, A. P. Sakis Meliopoulos, Georgia Tech
Event Record Sampling Rates, Duration, and Fault Analysis; Actual Examples
J. M. Pond
Experiences Using Fault Recorders in the Peruvian Power System
Yofré Jácome Depaz, et al.
Common Data Format Requirements for the Analysis of System Disturbances
Alexander Apostolov
Display and Discussion of Actual Fault Records Brought by Participants

Full Scale Experiment of the East-West Interconnection
A. Grobovy, et al. 
Facilitating Restoration After System-Wide Disturbances Using Automated Analysis
M. Kezunovic, T. Popovic, B. Lunsford, J. Lucey, A. Bartylak
Fault Analysis as a Basic Input for Maintenance Management to Improve the Overall Reliability of the Belgian Transmission System
Patrick De Cuyper, et al.
Disturbance Recording: Lessons Learned During the Blackout of 2003 Investigation
Jim Ingleson, Dean Ellis
Role of Data Visualization in the Blackout of 2003 Investigation

Analysis of Under Voltage Load Shedding Event at Philadelphia, Mississippi
Meyer Kao , Gary Kobet
Benefits of Power Swing Recording
Andrew Klimek, Robert Baldwin
Managing Smart Device Communications with a Database
Robert M. Orndorff
Digital Fault Recorder in Information Management Systems
Wang Xurui, Yun Wang, Xiaolong Sun
Improving Automatic Fault Analysis and Response Determination by the Use of Data Correlation from Multiple Sources, Including Non-Traditional, Non-Operational Data Sources

Databases and DFR Records
Amir & Maria Makki, George Semati, et al.