2008 Papers
---
2008 May 19 – May 20
Atlanta, GA, USA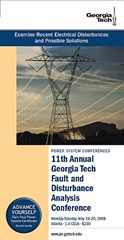 Advanced Applications Based on Integration of Relays, DFRs, Meters and Other IEDs in Substations
A.P. Sakis Meliopoulos et al. – Georgia Institute of Technology et al.
Advanced Line Current Differential Relay with Distance Protection and Adaptive Fault Locator
Hideyuki Takani et al. – TOSHIBA Corporation, Japan
Analysis of Simultaneous Faults Using Short Circuit Simulations and Fault Records
Yujie.I.Lu. et al. – National Grid
Automated Analysis of SCADA and DFR data – Post-fault Diagnosis of Power System Disturbances and Condition Assessment of Plant
Euan M. Davidson et al.
Automatic Network Quality Analysing System
B. Wartmann et al. – Siemens AG
Data Warehouse and Analysis Agents
M.Kezunovic et al.
Demystifying IEC61850
Jeffrey A. Vaughan – ABB Inc.
Electrical Characterization of Vegetation Faults on Distribution Feeders
Jeffrey A. Wishchkaemper et al.
Enhancement of an Expert System Philosophy for Automatic Fault Analysis
J.G.Bekker et al.
Feeder Interruptions Caused by Recurring Faults on Distribution Feeders – Faults You Don't Know About
Carl L. Benner et al.
Impact of CT Errors on Protective Relays – Case Studies and Analysis
Rich Hunt – GE Multilin
Impact of IEC61850 on Fault and Disturbance Analysis Systems
Alexander Apostolov – OMICRON Electronics
Investigation and Analysis into the Mis-operation due to Carrier Holes
John J. Meinardi et al. – Florida Power & Light Co. et al.
Pictorial Illustration of Fourier Transform as Applied to Digital Fault Recorder
Wing-Kin Wai et al. – APP Engineering
Static Var Compensation Controlled via Synchrophasors
Anthony Johnson et al. – Southern California Edison et al.
Summary Paper of IEEE PSRC Working Group H5-c Report on a Common Data Format for IED Sampled Data
Power System Relaying Committee (PSRC)
Summary Paper of IEEE Std. C37.232-2007 Recommended Practice for Naming Time Sequenced Data Files
Power System Relaying Committee (PSRC)