2010 Papers
---
2010 May 3 – May 4
Atlanta, GA, USA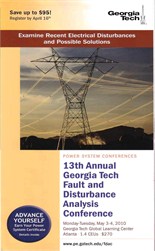 Analysis of Mutual Coupling Effect on DCB Scheme Operation for an External Fault
Russell Y.Irene Lu, National Grid
Wide Area Monitoring Solutions and Experiences Employing Data Obtained at Lower Voltage Levels
Katsuhiko Sekiguchi Masahide Hojo, Toshiba Corporation, Japan
Analysis of a Cascading Event at National Grid
Jeffrey Pond, National Grid & Dave Bertagnolli, ISO-NE
A Guide to Digital Fault Recording Event Analysis
Joe Perez, ERLPhase Power Technologies
Using Hall Effect Sensors to Add Digital Fault Recording Capability to Electromechanical Relays
Dwight Smith, Exelon Corp & Amir Makki, Softstuff Inc. & Robert Wilson, ABB Inc.
Standard Formats for Disturbance Analysis
Alexander Apostolov, Omicron Electronics
Applications of COMTRADE for Exchange of Synchrophasor Data, the Report H8
Eric Allen, Chair, NERC & James Ingleson, Vice-chair, RLC Engineering & Jim Hackett, Mehta Tech, Inc. & Bob Cummings, NERC
Controlled Switching Systems (CCS)
Tony Salmon, Dominion Virginia Power & Bryan Gehringer, Bitronics, LLC
Power Quality Considerations of Wind Farms
David Mueller, Electrotek Concepts, Inc
Automated Analysis of Lightning Caused Faults on the TVA Transmission System
Theo Laughner, Tennessee Valley Authority
Overview of Automatic Distribution Fault Location Systems
D. Daniel Sabin, Electrotek Concepts, Inc. & Cristiana Dimitriu et al. – Consolidated Edison Company
PMU Simulation/Test Applications fpr Power System Stability Monitoring and Control
D. Tholomier, et al. – Areva T&D (CA) (UK)
Meeting NERC Requirements for Oscillography and Disturbance Monitoring by Collecting Data from Relays
Charles Jones, American Electric Power & Declan Smith, Tarigma Corp & Jim Schnegg, Schweitzer Engineering Laboratories, Inc.
Advanced Real-Time Synchrophasor Applications
Edmund O. Schweitzer, III et al. – Schweitzer Engineering Laboratories, Inc.
Substation Automation Analysis: Deployment Challenges
Mladen Kezumovic, Texas A&M University & B. Clowe, et al. – Center Point Eneregy & Bruce Fardanesh, et al. – New York Power Authority & Paul Myrda, EPRI & S. Sternfeld, First Eneregy & T. Popovic, Test Laboratories International, Inc.
Analysis of Oscillation Damping after a Large-System Fault with Phasor Measurements
Sergio Luiz Zimath, Reason Tecnologia S.A.
Distributed Dynamic State Estimation and Power Quality Monitoring
Curtis Roe, Sakis Meliopoulos, Georgia Tech & Anjan Bose, Washington State University
Testing of PMU Based Wide Area Monitoring and Recording Systems
Benton Vandiver, Alexander Apostolov, Omicron Electronics