2017 Papers
---
2017 May 1 – 2 Atlanta, Georgia, USA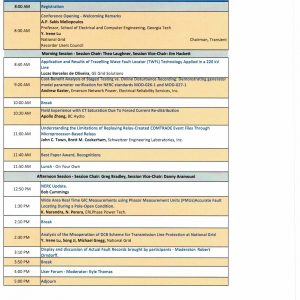 Application and the Results of Traveling Wave Fault Locator (TWFL) Technology Applied in 220 kV Line
Lucas Barcelos de Oliveira,  GE Grid Solutions


Cost-Benefit Analysis of Staged Testing vs. Online Disturbance Recording: Demonstrating generator model parameter verification for NERC standards MOD-026-1 and MOD-027-1
Andrew Kaster,  Emerson Network Power, Electrical Reliability Services, Inc.


Field Experience with CT Saturation Due to Forced Current Re-distribution
Apollo Zhang, BC Hydro

Understanding the Limitation s of Replaying Relay-Created COMTRADE Event Files Through Microprocessor-Based Relays
John C. Town, Brett M. Cockerham, Schweitzer Engineering Laboratories, Inc.


Wide Area Real Time GIC Measurements using Phasor Measurement Units (PMUs)Accurate Fault Locating During a Pole-Open Condition.
K. Narandra, N. Perera, ERLPhase Power Tech.


Analysis of the Misoperation  of DCB Scheme for Transmission  Line Protection at National Grid
Y. Irene Lu, Song Ji, Michael Gregg, National Grid


GPS Timing in Substations at Dominion – Where we are now and where we need to go
Patrick Hawks, Robert Orndorff, Kyle Thomas, Dominion Virginia Power


The Return of the Dedicated DFR – How IEC 61850 process bus simplified DFR installation
Rich Hunt, GE Grid Solutions


System for Event Summary Notifications: Preliminary Operational Results at SDG&E
Tariq Rahman, San Diego Gas & Electric
Ellery Blood, Matthew Halladay, Jared Bestebreur, Schweitzer Engineering Labratories, Inc.

Correlating Protective Relay Reports for System-Wide, Post-Event Analysis
Eric McCollum, Blue Ridge Electric Cooperative, Jared Bestebreur, Eric Hewitt, Chad Schwendiman, Schweitzer Engineering Laboratories, Inc.


Analysis of the Nuisance Tripping of a Dead Line Adjacent to a Faulted Line
Dean Sorensen, National Grid


Disturbance Recording in Digital Substations
Alexander Apostolov, OMICRON Electronics


Fault Location and Fault Section Identification in Multi Section Line using Single Ended Information
A.V.S.S.R.Sai, Sachin Srivastava, Prabakaran S, Suresh Maturu, ABB India Development Center, India

Solving Old Problems with New Technology
Marcelo Zapella, GE Grid Solutions


A Comparative Study on Cost Savings Offered by Traveling Wave System Fault Locators over Traditional Distance Relays for Long Distance Transmission Lines
Jonathan M. Trejo, El Paso Electric Company, David Cole, Qualitrol