2012 Papers
---
2012 April 23 – April 24
Atlanta, GA, USA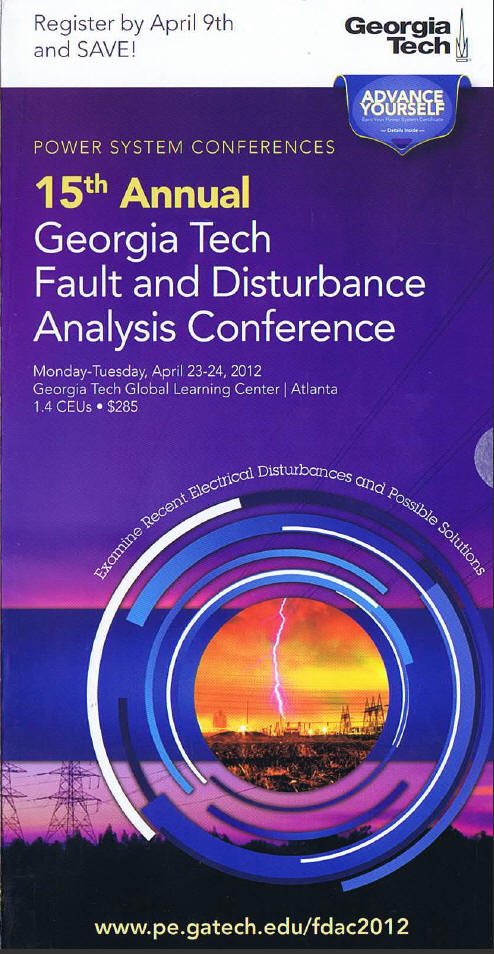 Evaluation of Travelling Wave Fault Locators at Dominion
Robert M. Orndorff, Dominion Virginia Power **Winner of the 2012 Best Paper Award**
The Answer to the Relay's Misoperation is in the DFR Data
Benton Vandiver III, OMICRON Electronics
Analysis of Selected Motor Event and Starting Reports
Derrick Haas, Jason Young, Ryan McDaniel, SEL, Inc.
Requirements for Setting-Less Protection Schemes
A. P. Sakis Meliopoulos, George J. Cokkinides, Sungyun Choi, Yonghee Lee, GA Tech
Benefits of Feeder Automation Solutions to Improve Quality of Supply and Reduce Operational and Maintenance Costs
Damien Tholonier, Sarah Hasan, Schneider Electric
Overview of an Automatic Subtransmission Fault Location System
D.Daniel Sabin, Electrotek Concepts, Inc. & Andrew R. Dettloff, DTE Energy -Detroit Edison
Validating Transmission Line Impedances Using Known Event Data
Ariana Amberg, Alex Rangel, Greg Smelich, David Costello, SEL, Inc.
Can End-to-End Testing Satisfy NERC/FERC?
Benton Vandiver, Alexander Apostolov, OMICRON Electronics
Analysis of a 115kV Local & Remote Substation Trip on a 13kV Feeder Fault at National Grid
Y. Irene Lu, Song Ji National Grid
Fault Location Calculation Challenge: Use of Automated and Manual Tools
M. Kezunovic, T. Popovic, TLI & R. Lunsford, B. Clowe, Center Point Energy & D. Maragal, NYPA
Engineering Disturbance Analysis Systems in the Smart Grid
Alexander Apostolov, OMICRON Electronics
How to Guarantee that Devices are Properly Time Synchronized?
Carlos Alberto Dutra, Jurandir Paz de Oliveira, Sérgio Luiz Zimath, Reason
CVT Transients Revisited Distance Directional Overcurrent and Communications Assisted Tripping Concerns
David Costello, Karl Zimmerman, SEL, Inc.
PMU Data – The Perfect Wave, or a Digital Tsunami? Managing PMU Data Flow
Fred Elmendorf, Grid Protection Alliance
Technology that is Shaping the Smart Grid in Distribution Networks
Benton Vandiver III, OMICRON Electronics
Challenges in Inducting Synchronized PMUs in Power System Control Applications
Tribhuwan Choubey, Ronald Lavorin, Southern California Edison
Event Analysis of a Fault Disturbance in the Columbian Power System Caused by a Light Aircraft Crash
Pedro Lozada, Sadul Urbáez