2009 Papers
---
2009 April 20 – April 21
Atlanta, GA, USA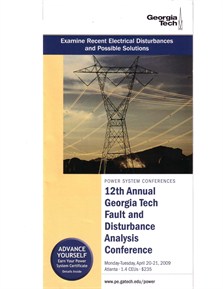 Analysis of 138KV Tree Fault in Jamaican Public Service Company System
Russell W Patterson et al. – Relayman Protection Services, LLC
Object Models of Disturbance Recording and Event Analysis Functions in IEC 61850 Based Devices and Systems
Alexander Apostolov – Omicron Electronics
Tenaga Nasional Berhad Experience on Protection System Analysis Utilizing Fault Recorders and Numerical Relay Recordings
Allen Tan Sean Chun et al. – Tenaga Nasional Berhad
Phasor-based Monitoring System Employing Real-Time Ethernet
Yoshinori Takei et al. – Toshiba Corporation
Analysis of the Plant Gorgas Breaker Failure
Jerrod B. Moll. – Alabama Power
Comparison of Impedance and Traveling wave Methods of fault Location Using Real Faults
Sergio Luiz Zimath et al. – Reason Tecnologia S.A.
Analysis of POTT Scheme Operation for an External Fault
Yujie I. Lu et al. – National Grid
Improving The Analysis Of Protection Operations
Alexander Apostolov – Omicron Electronics
Requirements for a Fault Recording System
Rich Hunt et al. – GE Digital Energy Multilin
Web-Based Automatic Arc Classification For Single-Phase Faults Based on System Fault Record Analysis
Jens Hauschild et al. – Vattenfall Europe Germany
Applying 100% Stator Ground Fault Protection by Low Frequency Injection for Generators
Steve Turner – Beckwith Electric
Updated Transmission Line Protection Communications
Roy Moxley et al. – Schweitzer Engineering laboratories, Inc.
High Speed Analog Telemetry Recording at the NYISO
Jeremiah Stevens et al. – New York Independent System Operator, Inc.
From Data Mart to Information Smart: Substation Automated Analysis Implementation
M. Kezunovic et al. – Texas A&M University
On IED Interfacing (Substation Environment Influence On Protection Reliability)
Janusz W. Dzieduszko – Power Systems Management Consulting, Inc.
Frequency Monitoring Network (FNET) and its Aspect on Disturbance Triggering and Disturbance Location Estimation
Tao Xia et al. – Bradley Dept. of Electrical and Computer Engineering at Virginia Tech
Advanced Testing and Characterization of GPS Synchronized Relays and DFR's
A.P. Sakis Meliopoulos et al. – Georgia Tech Institute of Technology
Protection and the Communications Network: Can You Hear Me
Ken Fodero et al. – Schweitzer Engineering Laboratories, Inc.