2021 Papers
---
2021 April 26 – April 27
Atlanta, Georgia, USA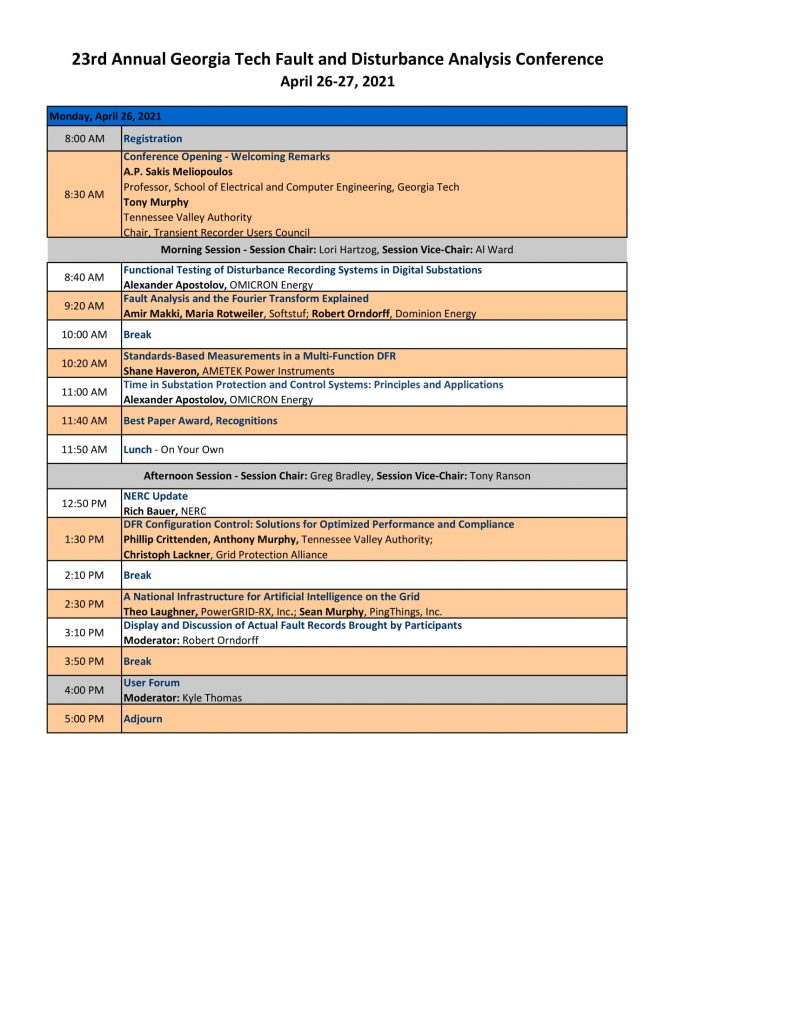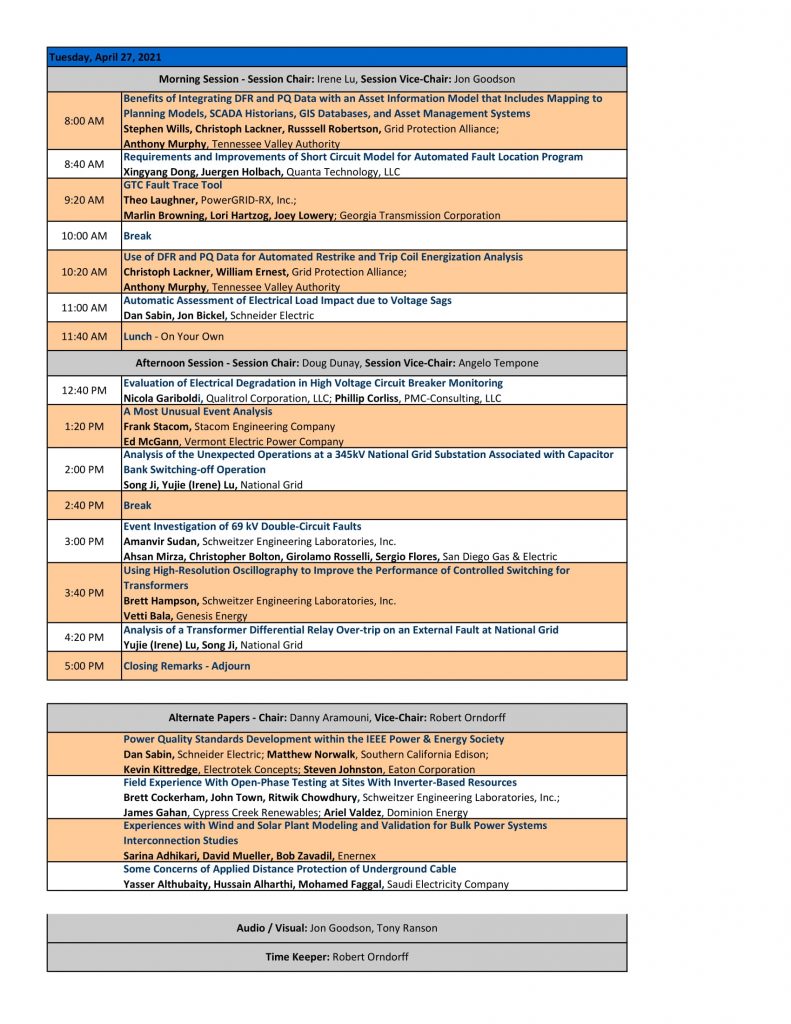 Power Quality Standards Development within the IEEE Power & Energy Society
Daniel Sabin, Schneider Electric
Matthew Norwalk, Southern California Edison
Kevin Kittredge, Electrotek Concepts
Steven Johnston, Eaton Corporation
Functional Testing of Disturbance Recording Systems in Digital Substations
Alexander Apostolov, OMICRON Electronics

Time in Substation Protection and Control Systems – Principles and Applications
Alexander Apostolov, OMICRON Electronics

DFR Configuration Control: Solutions for Optimized Performance and Compliance
R. Phillip Crittenden, D. Nathan Hooker, Anthony M. Murphy, Tennessee Valley Authority
Christoph Lackner, Grid Protection Alliance

A National Infrastructure for Artificial Intelligence on the Grid
Mohini Bariya, Berkeley
Theo Laughner, Lifescale Analytics
Sean Murphy, PingThings
Benefits of integrating DFR and PQ data with an asset information model that includes mapping to Planning Models, SCADA Historians, GIS databases, and Asset Management Systems
Stephen Wills, Christoph Lackner, Russell F. Robertson, Grid Protection Alliance
Anthony Murphy, Tennessee Valley Authority
Requirements and Improvements of Short Circuit Model for Automated Fault Location Program
Xinyang Dong, Juergen Holbach, Robbie James
GTC Fault Trace Tool
Marlin Browning, Lori Hartzog, Joey Lowery, GTC
Theo Laughner, Lifescale Analytics
Use of DFR and PQ Data for Automated Restrike and Trip Coil Energization Analysis
Christoph Lackner, William Ernest, Grid Protection Alliance
Anthony Murphy, Tennessee Valley Authority

Automatic Assessment of Electrical Load Impact due to Voltage Sags
Daniel Sabin, Jon Bickel, Schneider Electric
Evaluation of Electrical Degradation in High Voltage Circuit Breaker Monitoring
N. Gariboldi, Qualitrol LC
P.L. Corliss, PMC-Consulting LLC
A Most Unusual Event Analysis
Frank P. Stacom
Ed McGann
Analysis of a Transformer Differential Relay Over-trip on an External Fault at National Grid
Yujie Irene Lu, Song Ji, National Grid

Event Investigation of 69 kV Double-Circuit Faults
Ahsan Mirza, Christopher Bolton, Girolamo Rosselli, and Sergio Flores, San Diego Gas & Electric
Amanvir Sudan, Schweitzer Engineering Laboratories, Inc.

Using High-Resolution Oscillography to Improve the Performance of Controlled Switching for Transformers
Vetti Bala, Genesis Energy
Brett Hampson, Ritwik Chowdhury, Schweitzer Engineering Laboratories, Inc.
Analysis of the Unexpected Operations at a 345kV National Grid Substation Associated with Capacitor Bank Switching-off Operation
Song Ji, Yujie Irene Lu, Michael Gregg, Christopher McDonald, National Grid
Wang Tianwei Li Haitao, Deng Jindong, Liu Yonggang, NR Electric Co., Ltd.
Experiences with Wind and Solar Plant Modeling and Validation for Interconnection Studies
Sarina Adhikari, David Mueller, Bob Zavadil, EnerNex
Field Experience With Open-Phase Testing at Sites With Inverter-Based Resources
James Gahan, Cypress Creek Renewables
Ariel Valdez, Dominion Energy
Brett Cockerham, Ritwik Chowdhury, John Town, Schweitzer Engineering Laboratories, Inc.