2005 Papers
---
2005 April 24 – 25
Atlanta, GA, USA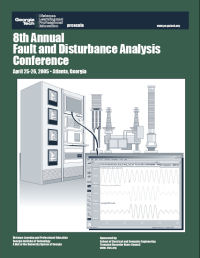 Widows Creek Disturbance – June 22, 2002 – Relaying Problems and Near Misses
Gary L. Kobet, P.E. Tennessee Valley Authority
Using Synchronized Disturbance Recorders to Dissect a Complex Short Duration Event
Dean Ellis, P.E. and Jim Ingleson, P.E. New York Independent System Operator, Inc., Schenectady, NY
An Examination of Possible Criteria for Triggering Swing Recording in Disturbance Recorders
Leonard Swanson & Jeffrey Pond, National Grid USA Rich Hunt, NxtPhase T&D Corporation
"Synchronized Event Data Reporting" Report of an NPCC Working Group
John Ferraro (Chairman – Northeast Utilities), et al.
Daily Integrity Checks Using Automated DFR's Records Analysis
Claude Fecteau, Denis Laroze, Raymond Begin, Jean-Guy Lachance
The Importance of Power System Event Analysis
Russell W. Patterson – Tennessee Valley Authority
Monitoring and Recording Power System Disturbances at SCE Using Synchronized Phasor Measurement Technology
Robert Baldwin, Bharat Bhargava*, George D. Rodriguez, and Armando Salazar,Southern California Edison Co.
Display and Discussion of Actual Fault Records Brought by Participants

File Naming Convention for Time Sequenced Data, Part II
Mark Adamiak, et al.
Power Swing Protection Relay Realized by a Digital Fault Recorder
Jan Åge Walseth, et al.
Using a Multiple Analog Input Distance Relay as a DFR
Dennis Denison – Entergy Arkansas
Using Digital Fault Recorder Data to Create Reports Complying to National Standards
Patrick M. Donato, John Sperr
Phasor Data Accuracy Enhancement in a Multi-Vendor Environment
A. P. Sakis Meliopoulos and George J. Cokkinides
A Cost Effective Solution for High Speed Recording in EHV
F Ghassemi, J Merron, Tom Cumming, Finlay MacLeod
*Waveform Storage in IEEE COMTRADE and IEEE PQDIF Standards: Comparison and Examples for Format Conversion

Power System Fault Analysis Using Fault Reporting Reporting Data of Numerical Relays
Dr. Guenter Kiessling, Stefan Schwabe, Dr. Juergen Holbach – Siemens PT&D
Electrical Resynchronization in the Peruvian Power System
M.Sc. Francisco Torres, et al.
Automated Analysis Using IED-Recorder Data: Implementation and Integration
M. Kezunovic, B. Lunsford, J. Lucey, D. Sevcik, M. Bruckner, T. Popovic
Impedance-Based Fault Location Experience
Karl Zimmerman and David Costello
IEC 61850 and Disturbance Recording
Alexander Apostolov
* Using Neuro-Wavelet Technique for Adaptive Single Phase Autoreclosure of Transmission Lines

Web-Based Wide Area Measurement System-System Architecture and Experiences
Toshiro Kagami, Hideyuki Takani, Katsuhiko Sekiguchi
* Paper not presented