2011 Papers
---
2011 May 9 – May 10
Atlanta, GA, USA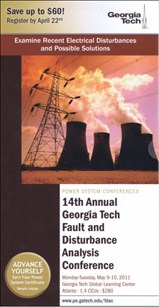 Effective Utilization of Phasor Measurement (PMU) Data for Triggers and Continuous Recording Using Digital Fault Recorders
Krish Narenda, Dave Fedirchuk – ERLPase Power Technologies, George Punnose – Easun Reyrolle Ltd, India
Real Time Multiterminal Fault Location System for Transmission Networks
Yanfeng Gong, Mangapathirao Mynam, Arimando Guzman, Gabriel Banmouyal – Schweitzer Engineering Laboratories, Inc., Boris Shulim – Orange and Rockland Utilities, Inc.
Analysis of Cascading Operation for Two Line Faults at National Grid
Y. Irene Lu, Song Li – National Grid
Impact of Cyber Security Attack on Energy Sector
Tribhuwan Choubey – Southern California Edison International
Improved Quantification of Lightning Impact on Transmission Lines
Theo Laughner, Eugene R. Nelsdon – TVA, Kenneth L. Cummins – University of Arizona and Vaisala, Steven A. Cummer – Duke University, Fabio Bologna – EPRI
Using COMTRADE to Commission Protection
Steve Turner – Beckwith Electric Co.
What Time Is It?
Theo Laughner – TVA
Automated Fault and Disturbance Analysis: Understanding the Configuration Challenge
Mladen Kezunovic, T. Popovic – TLI, Inc., M.Datta Barua – First Energy Corp, Deepak Maragal – NYPA
Records from DFRs vs. Records from Microprocessor Based Relays
Hugo Davila – ERLPhase Power Technologies
Fault Location by Traveling Waves: Application in High-Impedance Events
Sergio Zimath, Jurandir – REASON Tecnologia S.A.
Distribution Feeder Fault Location Using IED and FCI
Yanfeng Gong, Armando Guzman – Schweitzer Engineering Laboratories, Inc
Common Format for IED Event Data (PC37.239) Report
Mark Adamial – GE Digital Energy Multilin
Synchrophasor Security Practices
John Stewart – TVA, Thomas Maufer – Mu Dynamics, Inc., Rhett Smith, Eren Ersonmez – Schweitzer Engineering Laboratories, Inc.
Remotely-Initiated Synchronizing During a System Restoration Condition
Sara Huggard, Rina Bajaria, Pedro Melendez, Adam Cianfarani, Steven Watros p ITC Holdings Corp.
Wide-Area Awareness: Smarter Power Grid Monitoring and Analysis
G. Antonova, S Paduraru, J.Naccarino, E. Price – ABB
Understanding the Differences Between an Office and Substation Switch
Sergio Luiz Zimath, Jurandir Oliveira – Reason Tecnologia S.A.
Smart Grid Testing for Automatic-Distribution-Restoration Systems
David Marble – OMICRON, John Witte – Orange and Rockland Utilities
Naming Installed Intelligent Electronic Devices (IEDs)
James R. Cornelison – Southern Company
Advances in Disturbance Recording and Playback
Sakis Meliopoulos, George Cokkinides, Reneke Huang, Evangelos Farantatos, Sungyun Choi Yonghee Lee – Georgia Tech