2007 Papers
---
2007 April 30 – May 1
Atlanta, GA, USA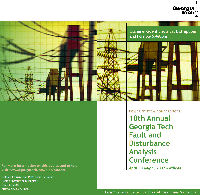 Analysis of Misoperations of System Protection Schemes in the Nordic Grid 2nd of December 2005
Jan Age Walseth – Stanett SF, Region Northern Norway
Common Power Quality Waveform Signatures Using IEEE COMTRADE and PQDIF
David Mueller, Thomas Grebe – Electrotek Concepts, Inc.
Application of Phasor Measurements Units for Disturbance Recording
Rich Hunt, Mark Adamiak – GE Multilin
A Series of Unfortunate Events: Fault Disturbance Analysis of 345KV Line Terminal Bus Insulator Failures on Northeast Utilities Transmission System
Dominick Fontana – Northeast Utilities
Future Trends for Fault Recording and Analysis in Brazil due to Market Deregulation
Sergio Luiz Zimath – Reason Tecnologia, S.A.
Application of the Super Calibrator as a Distributed State Estimator – Experience in Actual Systems
A. P. Meliopoulos, G. J. Cokkinides – Georgia Institute of Technology Floyd Galvan – Entergy Services, Inc. Bruce Fardanesh – NYPA Paul Myrda – TRC
Timing Options and Tradeoffs for Fault Analysis and Wide Area Measurements Systems – Timing is Everything
Roy Moxley, Ken Fodero – Schweitzer Engineering Laboratories, Inc.
Integration of Substation IED Data
T. Popovic – Test Laboratories International, Inc. M. Kezunovic – Texas A&M University Don Sevcik, Robert Lunsford – CenterPoint Energy
Timing Considerations for Event Reconstruction: A Progress Report from IEEE PSRC Working Group I11
Jim Ingleson – NYISO